From the deepening climate emergency to so many horrible decisions coming from the other Washington, if you found it hard to keep your spirits up this year, you're not alone. The best antidote we've found to news-induced blues? Solidarity and action. This year we at the Transit Riders Union joined together with allies to fight the good fight, and we achieved a lot! Here's a quick look back at some of the progress we made in 2019:
Changing the conversation on homelessness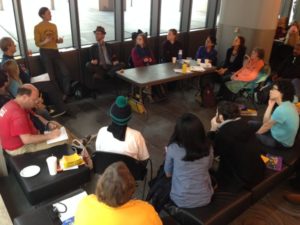 Last year we at TRU experienced first-hand how narratives about the homelessness crisis became toxic and misleading during the "head tax" debate. We knew we needed to be part of the solution, so this year we launched an innovative project called "We Need to Talk."
"We Need to Talk" brings neighbors together in living rooms and community spaces to share their perceptions and experiences of the homelessness crisis and to discuss its root causes. Our volunteer facilitators meet people where they're at, creating a space where participants can expand their compassion and understanding of this complex issue. We're planning to scale up this project in 2020. If you'd like to host a conversation or be trained as a facilitator, get in touch!
Improving mobility for disabled riders
‌
Working with disabled transit riders and allies at Stop Veolia Seattle, Washington ADAPT, and Disability Rights Washington, we won a major victory when King County finally gave irresponsible contractor Veolia/Transdev the boot. This corporation aggressively privatizes transportation and water systems and has been implicated in many abuses of workers and people around the world.
We pushed for and won major improvements to King County Metro's Access Paratransit contract, promising better service for riders with disabilities. The new contract, which went into effect this fall, more strongly enforces pick-up and drop-off time windows and the time riders spend on board. Customer service is now handled directly by Metro, instead of a private corporation with clear conflicts of interest. We know this new contract will require strong oversight, and ultimately we believe this vital public service should be operated directly by Metro, so we will be continuing to organize on this front.
Beating back privatization of public transit
In March we learned that Sound Transit was quietly taking steps to contract out its Express bus service to a private, for-profit corporation. We teamed up with ATU 587 and MLK Labor to fight back, mobilizing members and supporters to send hundreds of emails to the Sound Transit Board and CEO and testifying at board meetings. Sound Transit rapidly changed course in response to our pressure, saving good union jobs and keeping our transit public.
Moving All Seattle Sustainably
Last fall TRU played a major role in bringing together the MASS Coalition to fight for a sustainable, equitable transportation system in Seattle. This powerhouse partnership of transportation, climate, and disability rights groups has made waves in 2019.
In May we hosted five candidate forums around the city, giving many hundreds of Seattleites an opportunity to hear from and ask questions of city council candidates. In June, hundreds joined our Ride for Safe Streets, which sent a powerful message to city officials. This fall we pushed many pieces of our ambitious MASS Transportation Package through the city council. These policy wins will make it easier and safer for all people to ride transit, bike, walk and roll around our city. And we have much more in store in 2020!
Launching ORCA for All
TRU's organizing team and volunteers have been busy this year, surveying Seattle workers to learn about how they get to work and how their commutes could be improved. Building on that outreach, this September we launched ORCA for All. In 2020 we aim to pass a law requiring that large Seattle employers subsidize transit for all their workers.
We also made good progress on several related efforts: pressuring Sound Transit to decriminalize fare non-payment and reform their fare enforcement policies; advocating for a strong free transit pass program for the lowest-income riders; and challenging the University of Washington to step up and fully subsidize transit for ALL UW employees. We'll continue working on all these fronts under the ORCA for All umbrella, expecting some decisive victories in 2020!
Electing a progressive Seattle city council
Remember how Amazon and the Seattle Metropolitan Chamber of Commerce tried to buy our city council elections? Remember how they fell flat on their faces? TRU is proud to have endorsed and helped get out the vote for a slate of progressive Seattle City Council candidates, and other candidates running in our region, who are pro-transit, pro-worker, and will fight for a sustainable and equitable future for all. Most of the candidates we endorsed won election in November. We are looking forward to working with our new (and old) elected officials in 2020 to win ORCA for All and many other good things. We hope you will join us!