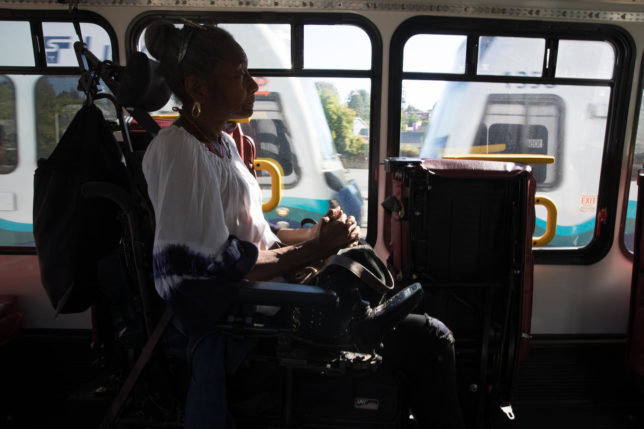 For years, TRU has organized with riders who use Metro's Access Paratransit vans and allies including Stop Veolia Seattle, Washington ADAPT West and Disability Rights Washington, to demand higher standards of service so that everyone can get where they need to go reliably and with dignity.
A 2017 audit showed what we already knew: Access riders are often picked up and dropped off excessively late or early, and what should be a short ride can turn into a long, winding, exhausting trip around King County. Why? Because the private transportation companies Metro contracts with to provide this service too often put profit over the needs of transit riders and workers.
Well, last Friday we won a major victory when Metro signed a new Access contract that will go into effect on November 1st. Most critically, the new contract will more strongly enforce pick-up and drop-off time windows and the time riders spend on board. Customer service will be handled directly by Metro, instead of by a private corporation with clear conflicts of interest.
We are thrilled that Veolia Transdev, a notorious corporate bad actor that profits off of privatizing transportation and water systems around the world, lost their bid to continue operating Access service in King County. Instead of Metro dealing with three separate entities that are often at odds with each other, there is now just a single contract with MV Transportation, enabling better transparency and accountability.
We're not totally satisfied, of course. We wish the contract were still stronger, and ultimately we believe Access service should be brought in-house and run directly by a public agency, with higher service standards for riders and higher labor standards for drivers. We will continue to monitor performance and organize with Access riders, especially to achieve equity for riders who are nonverbal or speak English as a second language. But all told, the new contract is a big step forward, and one that would not have happened without persistent effort and pressure from Access riders and allies. So let's celebrate this victory!